When thinking about your dream home, most people put a lot of thought into how to design your ideal kitchen and living space. But what about the bedroom, the place where we spend approximately one-third of our lives? Bedrooms are an essential place for relaxing and recharging, which is why we give them special consideration and thought when designing our homes.
In fact, The Brownstones at Chevy Chase Lake recently won a Best in American Living Award (BALA) for Best Master Suite (Silver Award). Designed by renowned interior design firm Carlyn & Co, the Bradley model's elegant owner's suite offers the perfect place to unwind at the end of the day.
How can you get an award-winning look for your bedroom? Here are five tips to creating the ultimate relaxing retreat.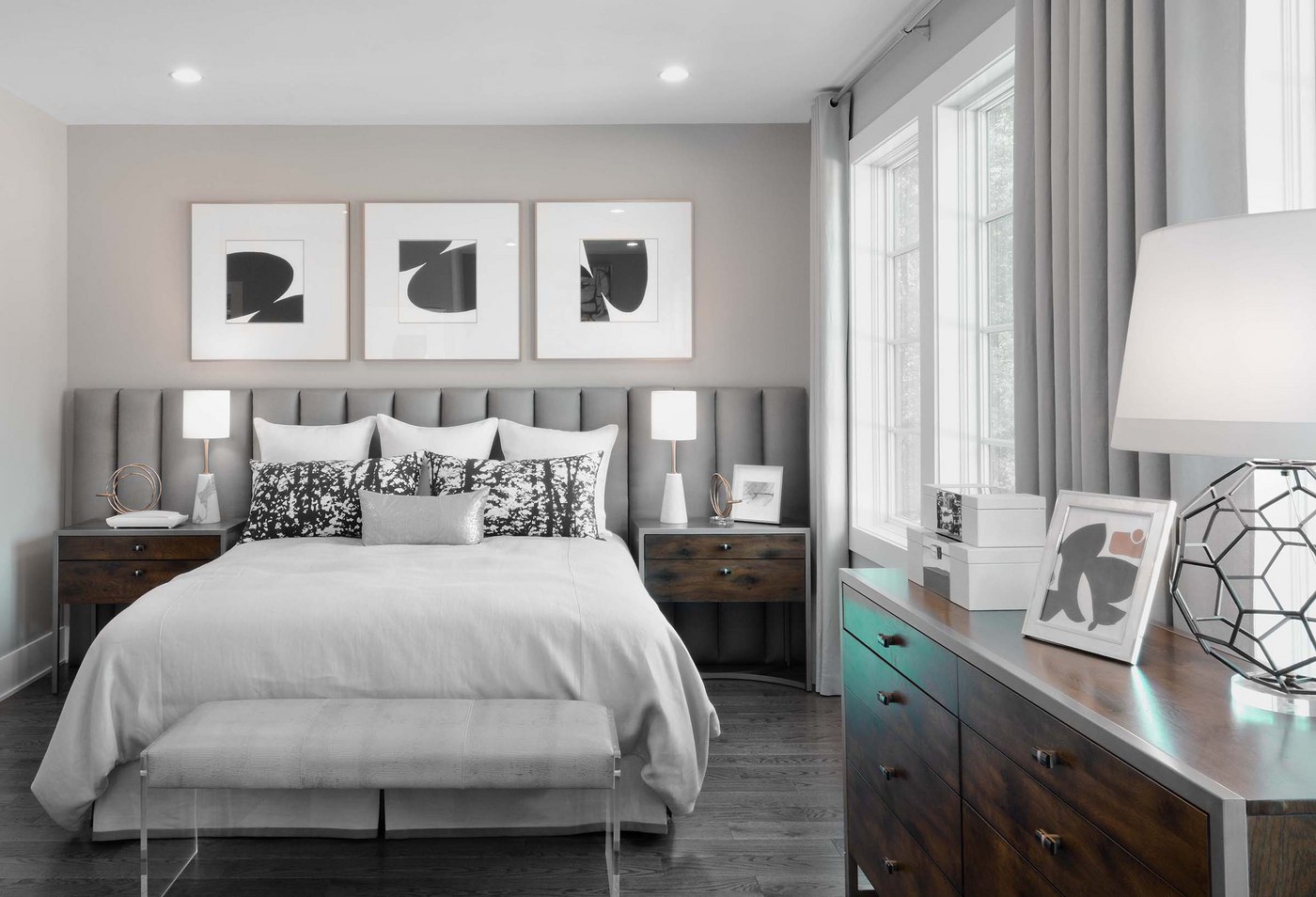 1. Choose calming colors
The first step in creating your ultimate relaxing retreat is to select a soothing color palette. Neutral colors, such as ivory or gray, are always a good option and never go out of style. If you prefer a bit more color, blue is a popular bedroom color and even a darker shade of blue can still be soothing. The photo above shows how to incorporate various shades of the color throughout the room to create a layered look. Notice the light gray paint, accented with darker gray curtains and headboard, and pops of gray throughout the accessories.
2. Add seating for reading or relaxing
While not all bedrooms have a nook for seating, a small comfy chair can usually be placed in the corner of most rooms to provide a space for reading or relaxing. Place a small shelf or basket with your favorite books or magazines next to the chair to easily access your favorite reads. Just make sure the chair doesn't become the go-to place to toss your clothes at the end of the day!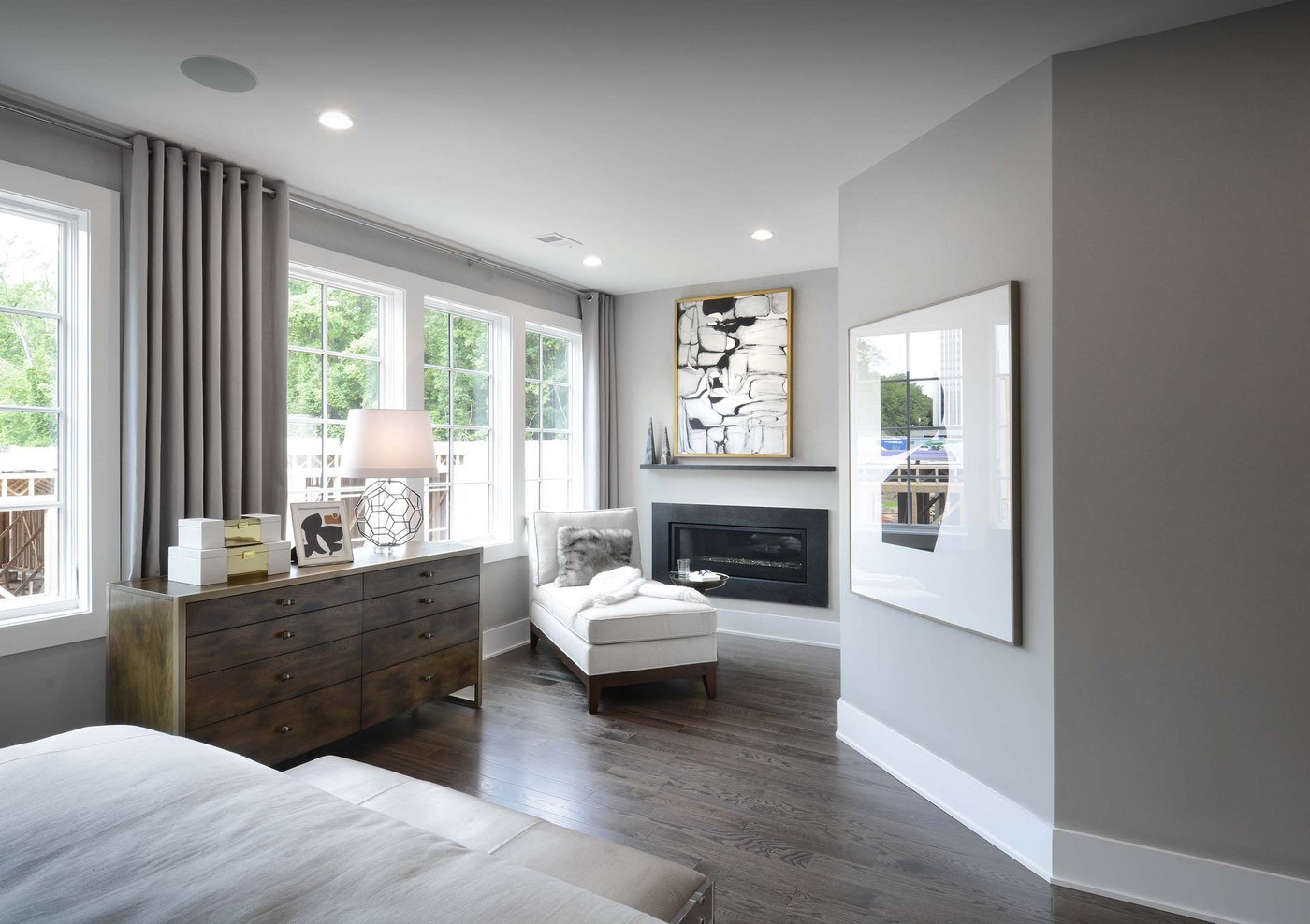 3. Leave the electronics on the main level
The bedroom is a place to recharge and reconnect with ourselves and our loved ones. Don't bring distractions into the room such as a TV, computer and cell phone. You'll notice in the photo above, that while the space above the fireplace could easily be used to hang a TV, artwork was used instead. Studies have shown that using electronics right before bed, adversely effects sleep and can make it more difficult to fall asleep, stay asleep and feel rested. So leave the electronics, including your cell phone, on the main level for a more restful night.
4. Declutter and decorate with items that bring you joy
Imagine walking into your bedroom at the end of the day and being surrounded by your favorite pieces of art and most loved photos and mementos. This can help relieve the stress of the day and bring a sense of calm to you as you get ready to go to sleep. But if you have a cluttered room and have a hard time deciding what to keep, take the advice of organizer extraordinaire Marie Kondo: "Keep only those things that speak to the heart, and discard items that no longer spark joy."
5. Indulge your other senses
While your room may now look like the ultimate relaxing retreat, don't forget about your other senses. Add a soothing scent, such as lavender, with a scented pillow spray or oil diffuser. Block out light and sound to ensure a good night's sleep. Window treatments can help keep out the light and if there is noise near your home, try ear plugs, a soothing sound machine or small fan. And comfort is key. Make sure that your bedding not only looks great, but feels great too.