When choosing a neighborhood, one of the first questions to consider is location. How close is it to work? How far is it from friends and family? Is it near my favorite coffee shop or yoga studio? Can I walk to where I need to go or will I need to drive or take public transportation?
Whether it's your commute to work or how close your home is to entertainment and restaurant options, proximity to what you both want and need are essential when deciding where you'll live.
The Brownstones at Chevy Chase Lake are uniquely positioned to offer residents both the proximity to local businesses they love and easy access to multiple downtown city centers, with dining, entertainment and cultural experiences just around the corner.
With a variety of transportation options to choose from, here's a look at how accessible the Brownstones at Chevy Chase Lake are to nearby city centers and how residents can easily get where they need to go.


Shops Within Walking Distance


5 - 10 min. walk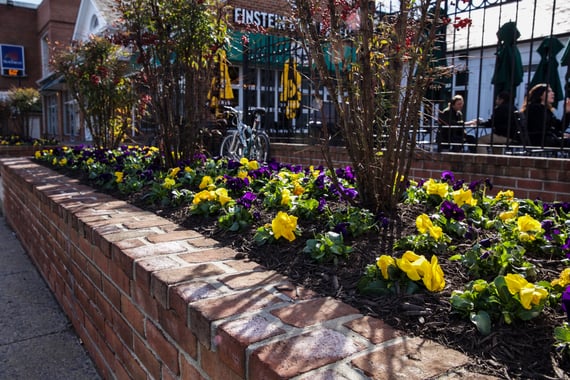 A mix of urban and suburban living, Chevy Chase, MD offers residents an off-the-beaten-path quietness paired with the liveliness of city living. This relaxed, beautiful, and historical neighborhood is close to restaurants, high-end retail, movie theaters, and so much more, while still giving residents the option of a peaceful night in.
Located in a wooded neighborhood, the Brownstones at Chevy Chase Lake align with the Chevy Chase lifestyle. Just a 2-minute walk to Connecticut Ave., residents have access to:
Dining & Services

SunTrust

Chevy Chase Custom Tailors

Einstein Bros. Bagels
Retail & Activities

The Somerville Bath & Kitchen Store
Columbia Country Club (10 - 15 minute walk)


Plus, more exciting dining options are currently under construction and expected to open in 2021
Transportation from the Brownstones at Chevy Chase Lake
All of the above are within a 5-15 minute walk from the Brownstones at Chevy Chase Lake
Metrobus Route L8 stops at Connecticut Ave. & Manor Rd.

Takes riders to Friendship Heights Metro Station

Future Purple Line coming in 2023 - Connecticut Ave. Station will be less than a 5-minute walk from the Brownstones at Chevy Chase Lake
Whether biking to the office or heading to the Capital Crescent Trail (re-opening in 2020), there is a Capital Bikeshare station on the corner of Connecticut Ave. & Chevy Chase Lake Dr., just a quick 5-minute walk from the Brownstones.


Chevy Chase Lake into Northwest D.C.


10 min. drive | 13 min. bike ride
Just about 2 miles south of the Brownstones, the transition from Chevy Chase to Washington, D.C. begins. Heading south along Connecticut Ave., the Chevy Chase Circle marks the border of Maryland and Washington, D.C. The neighborhood begins to change from the quiet Chevy Chase streets to a more metropolitan setting.
Along Connecticut Ave., you'll find a fresh variety of entertainment and dining options from cocktail bars and movie theaters to cafes, markets, and more.
Dining & Services
Blue 44 Restaurant and Bar
Retail & Activities
Periwinkle
Write for You
Barston's Child's Play
Transportation from the Brownstones at Chevy Chase Lake

Friendship Heights
10 min. drive | 15 min. bike ride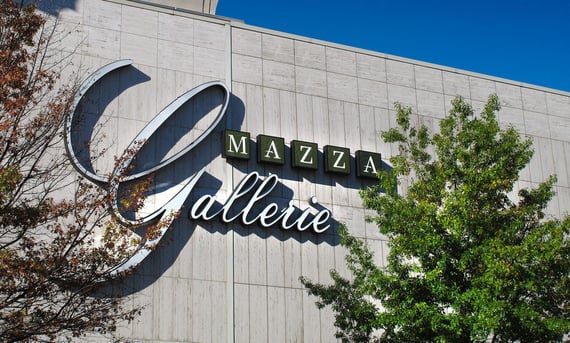 More metropolitan than Chevy Chase, but still a mix of both suburban and urban perks, Friendship Heights has an energy unlike any other neighborhood. Playgrounds and parks, accessibility to both the Metro and its bus routes, and a number of architectural styles are just a few reasons residents enjoy their neighborhood.
It's clear to both locals and visitors that Friendship Heights is a shopping mecca. With a plethora of upscale shopping options up and down Wisconsin Ave. and seemingly endless dining choices, many residents don't even own a car. The Friendship Heights Metro station is less than a 5-minute walk from Mazza Gallerie, Chevy Chase Pavilion, and the Shops at Wisconsin Place.
Retail & Activities
Dining & Services
Clyde's
P.F. Changs
Maggiano's Little Italy
The Cheesecake Factory
Transportation from the Brownstones at Chevy Chase Lake
Metrobus Route L8 will take residents to the Friendship Heights Metro Station
Ride share: About $9
For those driving, there is a four-level car garage available

Downtown Bethesda
7 min. drive | 12 min. bike ride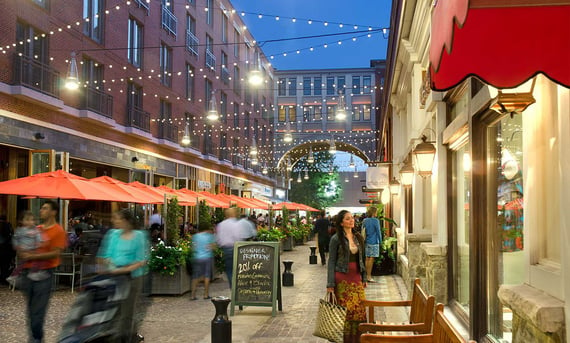 Located less than two miles to the west via sidewalk-lined East-West Highway, downtown Bethesda's thriving urban center is home to numerous restaurants, retailers, arts venues and community events. Most are located between Wisconsin and Woodmont avenues or in Woodmont Triangle between Wisconsin and Old Georgetown Road, site of the Bethesda metro station. High-end retail options are tucked between popular dining spots and much more.
Retail & Activities
Kendra Scott
Anthropologie
Lululemon
The North Face
Gallery B
The Apple Store
Bethesda Row Cinema
Paper Source
Pottery Barn Kids
Dining & Services
Georgetown Cupcake
Bethesda Bagels
Transportation from the Brownstones at Chevy Chase Lake
Ride share: About $7
Bethesda Circulator buses offer free rides to 20 stops within these areas Monday through Saturday up to midnight.

Future Purple Line (projected to open in 2023) will be one stop away from the Bethesda Metro Station

Silver Spring
15 min. drive | 25 min. bike ride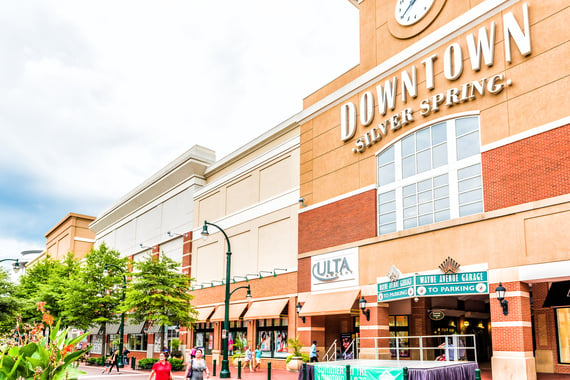 Silver Spring combines a vibrant, laid-back atmosphere with an eclectic mix of dining, shopping, entertainment and the arts located along Georgia Ave. and the intersecting blocks of Colesville Rd. that include the Silver Spring metro station.
Using eastbound East-West Highway and Colesville Rd., the city center is less than four miles from Chevy Chase Lake and easy to reach. From the Silver Spring Metro station, a wide variety of activities are all within minutes.
Retail & Activities
Fountain Plaza

Interactive splash fountain near the intersection of Ellsworth Dr. and Georgia Ave.
Zumba and Yoga classes held in the summer
Live music during lunch hours and weekend evenings

Regal Majestic & IMAX
Record Exchange Silver Spring


A new downtown refresh is also underway, and will soon bring a new bowling venue and lounge, public plaza, and dynamic green space.
Dining & Services
matchbox
Copper Canyon Grill
Masa Hibachi
The Society Restaurant & Lounge
Transportation from the Brownstones at Chevy Chase Lake
Ride shares: About $12
Future Purple Line: Silver Spring Metro Station will be just 3 stops from the Connecticut Ave. Station
---
When choosing a home, you're choosing more than a house - you're choosing a neighborhood. Depending on what's important to you, it's important to consider not only if those options are nearby, but how you'll get there and how that will fit into your life and schedule.
Beyond work, local businesses, and transportation, it's equally as important to get to know the community you'll soon be a part of. When it comes to local activities, each of these city centers offer fun, unique, and seasonal events for residents to enjoy and look forward to every year.

Click here to view our favorite local events happening this summer in Chevy Chase, Northwest D.C., Friendship Heights, Bethesda, and Silver Spring.
---
Events & activities near the Brownstones at Chevy Chase Lake
---